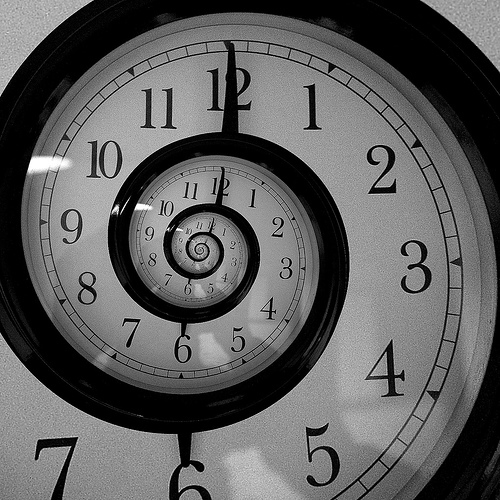 Tick. Tock. Tick. Tock. Tick. Tock. Tick. Tock.
No, not the sound of a clock, but my head banging on the counter top. It's a little hollow right now (my head) – hence the tick-tock rather than a bang-bang or thud-thud.
The elusive concept of time …. eludes me. I have always maintained that if days had more hours, my ADD would have half the challenges. You see, while I am a terrible organizer, haphazardly inattentive, and slow to get started on most things – I'm convinced that I would be none of these things if time simply waited for me. I can pay attention – but only after I get around to doing everything else on my list, so that a million things aren't competing for my head space like an under-priced house in a seller's market. I could also be more organized – if someone else's deadlines didn't dictate the time frame within which I must work. If this were the case, getting started would be a non-issue, because when I got started and how long it took – would be irrelevant.
The biggest problem with time is that it seems to be moving faster and faster. It could be a sign of the ages – too much to do and too little time. Or it could be a sign of my age. My dad always warned me that life is like a roll of toilet paper – the closer you get to the end, the faster it goes. Funny guy my dad, he's the Cliff Claven of sayings involving bodily functions.
But I don't think it's really going faster (quantum physicist's post your arguments below). We are  going faster and time simply matches our pace. Every night before I go to bed, I review the day's events in comparison to the next day's itinerary and think:
"It's too much".
See, twenty-four hours in a day really isn't enough, but since it is all we get, we need to pace ourselves accordingly rather than cramming more into each second. But with ADD, there are two huge barriers to doing this.
1. We have no concept of time.
We don't know how long something should take or how much time we need to complete it. We have no idea how we spend most of our time, simply because we often aren't "there" while we are spending it. But most of all – our biggest challenge with time is that we are overly optimistic. Most authorities on managing ADD will advise you to project how much time you think a task will take and double it, in order to get a more accurate figure of the time it will actually take. I am fully aware of that fact. However, when I look at how much I can get done in a day (realistically) and compare it to what I want to get done, there is a gross mismatch between the figures. Deep down I really believe I should and could get those things done, if I only I could find the focus.
2. We frequently take on too much.
Everybody takes on too much these days; busy-ness is not segregated to ADDers but seems to be a global dilemma. Next time you see a friend and ask her how she is doing, I will bet you a million bucks (the ones roaming the Boreal Forest, not the ones sitting in Bill Gates' bank account) that she says "Oh, I am soooooo busy!" We ADDers don't necessarily take on more than any other group of people, but we certainly do take on more than is good for us. Again, because of our optimism (I should and could) and because of this simple phenomenon:
Yep. That's what we do. For example, I started coaching last year and have been busily growing my business. Apart from my family, coaching is my priority numero uno because – it's the thing I really love to do. Then, I started this blog, which has become priority numero dos because (as it turns out) – it's the other thing I really love to do. So I do these two things joyfully, while coasting along with the "day job" and making time for my family and  friends. I could also pretend that I make time for housework to try and look good, but the amount of time I spend doing that is an inconsequential drop in the bucket.
The week that this blog went live was a crazy-busy, but totally exciting time. It seems a long time ago now but was less than a month (thanks to you again, elusive Father Time). The day after the blog was first published, I did the only rational and normal thing a woman in my position would do – I decided to relocate. Not next door or across town, but 840 km (522 miles) west of here. Wrapped up in the excitement and enthralled with the sense of completion the blog gave me, I was inspired to finally make the decision I had been postponing for nearly a year. Because that's how my brain works.
When ADDers get busy, we have a tendency to take on even more. Being busy, harried, and hanging on by the skin of our teeth activates our adrenaline, aka mother nature's Ritalin. However, adrenaline has serious side effects if we rely on it long-term, and while it gives us a boost in the short-term, it doesn't really increase productivity. But its not just the adrenaline we crave. While other people can get their noses to the grind when they really need to, ADDers need to get into the right mental state to get focused and productively active. When that state hits us, we don't want to lose our momentum. So we decide to take it all on. And that's the reason we believe we should and could do it all : because when we're in hyper-focus, we can and do. At times, we "can" and "do" do more than anyone else "could" or "would". The problem is, the momentum doesn't last forever. Yet we seem to think that because we can get a lot done in hyperfocus, we can get that much done at other times. It's a faulty principle. Hyper-focus is the exception, not the norm. If it was, your life would be very one-dimensional and devoid of enjoyment and rest. In short, you'd burn out.
So yes, we need to project a realistic view of how long things will actually take. And yes, we should learn to take on only what we can feasibly do in normal times, not hyper-focus times. But more importantly – we need to learn to appreciate what we are doing, when we are doing it. And we need to appreciate why we are doing all that we are. Because without meaning and purpose, all busy-ness is wasted effort. Thinking about the purpose behind our actions can put more joy into the time we do have. It can even slow time down.  Being fulfilled and full of joy transcends the ticking of the clock and nullifies the relevance of the passing seconds. It is time well-spent, not time maxed out.
Being busy or pushed for time doesn't matter when you make each minute an important part of your day.
In the next post, we will explore time more and try to harness it like a cowboy halts a bucking bronco. But for now, please leave me your comments and share your experience of time and its challenges. I want to know that I am not the only one who can't get a firm grip on the clock!